What makes a great basement is a common question we get at Hawthorne Finished Basements in Omaha. A finished basement can add a lot of value to your home. Not only does it provide extra living space, but it can also be used for storage or as a home office.
If you are thinking about finishing your basement, there are a few things you should keep in mind. In this blog post, we will discuss some of the most important factors to consider when planning your finished basement.
10 Essentials of a Great Basement
At Hawthorne Finished Basements in Omaha, we take into consideration all the essentials! We have put together a list of the ten most important things to think about when finishing your basement in Omaha.
Functionality
Lighting
Flooring
Storage
Wine Cellar or bar
Comfortable furniture
Big-Screen Television
Stylish Decor
Bathroom
Functionality
Take some time to consider how the additional space may provide the greatest benefit within your basement's existing limitations, such as limited natural light or existing mechanical systems (heater, water heater, and washing machine).
Home theaters are attractive because they don't require much light. Basements are ideal for private guest rooms since they are disconnected from the rest of the home. Because sound is more isolated in a basement, this may be a great location for a play area, music practice room, or teen hangout. If you have a lot of square feet, consider building a wet bar, home gym, or office.
Lighting
Most basements are dark because they have either small windows or no windows at all. You will want to consider this when planning your basement's layout and design. Incorporate both natural and artificial lighting into your plan. Skylights, solar tubes, and LED lights are all great options for basement lighting.
Flooring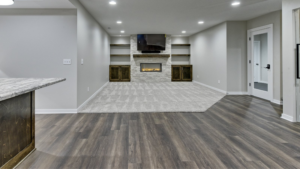 The flooring you choose for your basement should be both stylish and durable. Carpet is a popular choice for basements because it is comfortable and soft, but it can be difficult to keep clean. Hardwood floors are another option, but they can be cold and hard on the feet. Tile and linoleum are durable and easy to clean, but they can also be cold. Consider radiant flooring if you want a warm, comfortable basement floor.
Storage
A finished basement is a perfect opportunity to add extra storage space to your home. Incorporate built-in shelves and cabinets into your design. If you have a lot of stuff, consider adding a storage closet or an extra room for storage.
Wine Cellar or bar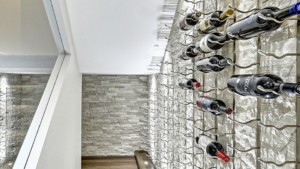 A wine cellar or bar is a great way to entertain guests in your basement. If you love to entertain, consider adding a wet bar or mini kitchen to your basement design. This will give you everything you need to entertain guests in your new space.
Comfortable furniture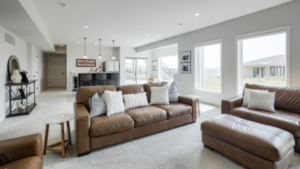 Make sure you include comfortable furniture in your design. This is a space where you will want to relax and unwind, so choose furniture that reflects that. A couch and chairs are a great way to create a cozy seating area. If you plan on using this space for entertaining, consider adding a pool table or game table.
Big-Screen Television
If you plan on using your basement as a home theater, make sure you include a big-screen television in your design. This will give you the ultimate movie experience.
Stylish Decor
Don't forget to add stylish decor to your basement. This is a space where you can really let your personality shine. Choose colors and materials that reflect your style.
Bathroom
If you plan on spending a lot of time in your basement, consider adding a bathroom. This will make it easy to use your basement as a guest suite, playroom, or home office.
When planning your finished basement, keep these ten essentials in mind. By incorporating these elements into your design, you will create a space that is both functional and stylish.
Choose Wisely
Choosing a basement finishing company can sometimes feel like picking a poison. No matter which you pick, something is certain to go wrong.
But not every home construction project needs to feel that way. (Actually, it shouldn't at all.)
Hawthorne has something to say about that. Yes, we know you want a beautiful basement at a fair price, but you also want amazing customer service.
We've created popular basement floor plans that appeal to many homeowners so that we don't need to reinvent the wheel every. single. time. Yes, you can totally deviate but we think you'll like what you see.
We're excited to show you how pleasant it can be. Please take a moment to review our finished basement floorplans.