A finished basement in Omaha is a reprieve for the dog days of Summer, right? Summertime and the livin' are easy… and hot. Midwest summers can be brutally hot and that doesn't even include the crazy humidity levels that we endure for at least four months, if not more. Underground backyard pools have always been a favorite for Midwesterners, but the popularity of having your own oasis has grown increasingly since 2020. Covid times forced the need to stay home, and with that also came the want to make your home what you've always wanted it to be. And your finished basement and backyard are no exception. For some, depending on space and resources, putting in a backyard pool is not an option, which is where Hawthorne Finished Basements come in! We are here to bring you a basement reprieve for the dog days of summer.
Hollywood at Home
Going to the movie theater is so 2019! Turn one section of your unfinished basement into a finished home theater space fit for your favorite flicks! Whether it's a family movie night or the kids go to bed early so mom and dad can watch a Rated R feature, having a comfortable and inviting movie room or corner in your finished basement is a must-have! The three essentials to creating an ultra-luxurious movie experience at home include; a deep, plush couch with soft throw blankets, a large and crisp flat screen tv, OR an old-school projector for that extra touch of nostalgia, and of course, a popcorn machine!
Dave 'n Busters Finished Basement Edition
Between all the people and the over-price cost, the idea of going out for a family night of games and fun can seem daunting and overwhelming. So we suggest taking the family right downstairs to your finished basement where it's been outfitted with games sure to please everyone in the family! From skee ball to air hockey to pool to fuse ball and even darts on the wall, there's no shortage of wholesome entertainment when you create a game room or space in your basement when you partner with us here at Hawthorne!
Cocktails and Cuisine at the Casa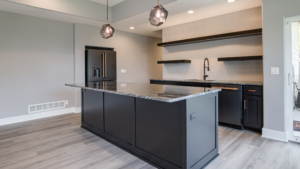 Why go out for drinks and dinner when you can wine and dine from the comforts of your fabulous finished basement?! After all, you did design and dream it up exactly how you wanted it! When you incorporate a kitchen and bar into your finished basement, you create the ultimate entertainment and gathering space for family and friends. The world aka kitchen is your oyster when you customize your basement with Hawthorne. Love to cook? Then a full sink, fridge, and even oven would be ideal for the culinary whiz in the family. Love to make extraordinary craft cocktails? Then a wet sink, ice maker, and mini-fridge stocked with mixers galore is a must.
Finished Basement Sleepover Staycation
We have fond memories from our childhood of having family staycations right in the safety and comfort of our own basement. Even mom and dad would join us as we piled in and took over the couch and covered the carpeted floor with blankets upon blankets and a million pillows for the ultimate cozy sleepover setting! We would watch movies, eat popcorn and share our favorite candies, and all doze and fall asleep one by one. It felt so special and was something we looked forward to. Sure you could load up the clan and check into a stale hotel room down the block for a staycation, but nothing beats a basement party at home!