Choosing Omaha basement contractors can sometimes feel ominous. No matter which you pick, something is certain to go wrong.
But not every home construction project needs to feel that way. (Actually, it shouldn't at all.)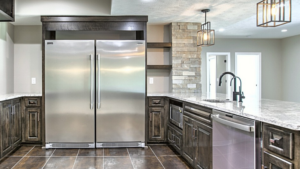 Our Process
As a 3rd generation builder, Lindsey understands the importance of being accurate, on budget, and on time. She prides herself on these basic principles.
So, how are Hawthorne basements in Omaha different than the traditional contractor? Here is our process:
Step 1- Create the Design
We asked that all serious clients work with our drafting company, like VirtuActive, to create an actual design for their basement remodel. This includes an on-site visit from our partners to take accurate measurements of your space. Within a week, we can have the preliminary design ready for viewing and modifications.
Companies like VirtuActive specialize in designing floor plans, and renderings in a 3D environment. They utilize leading edge software to help our clients visualize their plans in a way that allows them to clearly communicate their wants and needs during the design process. Our clients can make decisions on ALL aspects of the basement through a virtual perspective instead of just lines on paper. Their process allows full client interaction which saves time, money, and frustrations later in the field. Change orders are reduced, completion dates are hit more often and you get to "walk" through your basement before it's built.
Just because we started off with a plan doesn't mean you have to stick to it. Remember, you're in the driver's seat and we're here to help you have your dream basement.
Step 2- Gather the Bid
Once the basement design is approved, we get the final copy in order to send it out to all of our subs for bidding. These aren't estimates.l These are hard bids and actual numbers- not just us estimating the cost to finish your basement.
Step 3- Review the Bid
We arrange for a homeowners meeting where we go through the estimates and final numbers on the basement bid with the homeowners. No mystery where the numbers are coming from and we simply calculate our management fee on top of the overall costs. (One advantage to you during this time is the contractor's pricing and savings we receive are passed on to you the homeowner.
Step 4- Start the Project
If there are any modifications at this point, we can make the necessary additions/subtractions from the scope of work for your finished basement project and reach a plan that works for you. Once approved, we sign on the dotted line and take the initial deposit. An advantage of working with Hawthorne Finished Basements is you can expect regular communication and you will always have a pulse on the progress of your basement.
During the next few months of working on your basement, there will be several small decisions, questions, and timeline things we would need to communicate and coordinate. Don't worry, we're advocating for you and the success of staying on budget (and on time). That's just one of the many benefits of hiring a basement remodeler instead of doing it yourself.
Remember, not all Omaha basement contractors are created equal. Communication is our strong suit. You'll appreciate our communication style and approach to building a strong relationship through this basement building process.
How Long Will it Take to Finish?
An average basement in Omaha will take about 2-3 months depending on the time of work and scheduling the availability of our crew. We encourage homeowners to give us unwavering access to their basement during this time so that we can work without delay.
Start Your Dream
If you're searching for an Omaha basement contractor you can trust, we encourage you to contact us quickly as possible.
Phone: (402) 321-5260
Email: hello@hawthornebasements.com