The Breadbasket's Bounty of Celebrating Completion: Happily Holding Graduation Parties in a Finished Basement
Graduation is one of those ceremonies that can be captivating, thrilling, and a bit bittersweet all at once: here in Elkhorn you may be celebrating high school, bachelors, master's, doctorate, or beyond as far as your proud and well-studied one is concerned. There is nothing as memorable as ordering a huge spread, dressing up formally, and inviting everyone over to celebrate: graduation is in some ways much like a birthday, and a vision of the future that holds on gleefully to the memorable past. We have always been thrilled to look at your current space, and see how to create a vision & optimize it for your future needs!
Room To Spread Out
The "True Gains" layout would be a great location for graduation: there is plenty of room to spread out, converse, and lay the refreshments out on the table. Here at Hawthorne finished basements in Elkhorn, we have always had a massive love for the way that social gatherings ebb and flow, and excitedly spill out to the backyard during the warmer seasons. The True Gains finished basement plan allows for sampling a nice Pinot or Merlot for those of age on the way down the stairs and provides the best of atmospheres for conversations about where you may continue your in-depth studies.
Gra
When we design and go deep to conceptualize our basement floor plans and come to check out your house to see if a custom number is what works for you, we have long known the whims of the transitional time of having the college-bound family member back to visit. it is the perfect time to let your loved one's sprawl out and study, rest and recoup, and reconnect with the ones that shaped their lives during high school. The "Nebraska Nice" layout would be amazing to come home to during downtime: imagine the hustle and bustle of Brown or Cornell, or the crowded campuses of Cambridge before landing right here at Eppley to enjoy a husker-themed Thanksgiving with mom and dad!
Throw Your Feet Up
And this is what it's all about: family. Just like the delicious tastes of scalloped potatoes or green bean casserole, comfort can provide the many fruits of its bounty while enjoying the comforts of new finishings. Our patented "Call me old Fashioned" finished basement plan provides the place where your recent grad can throw their feet up, have friends over to check out the latest Instagram posts, and enjoy a few home-spun nutrients every once in a while. Remember, you once made it to graduation too, and may have had to celebrate your graduation in a situational location that was a bit like "That 70's Show"… even though we still give that a few comfort-inspired props as well!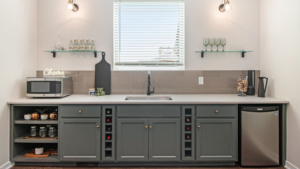 Signing the books, giving the gifts, and shaking the hands are not every single memorable element of what's going on during graduation: having your guests congregate in the ultimate space is going to bring about a sense of peace and togetherness. We are standing by dutifully on deck to take account of your floor space, see what we can make happen, and transform your current condition into an area where your current grad will be able to make memories, come back to recharge, and set their sights on a bright and prosperous future!