Walk out of your basement and into an amazing Memorial Day Bash with our Coastal Plan!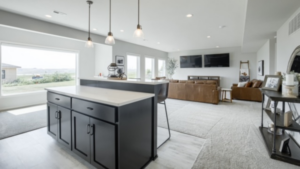 We can't believe just how quickly the month of May is zooming by. With school wrapping up and graduation ceremonies and celebrations getting underway, the unofficial start to Summer is right around the corner, which also means the Memorial Day Weekend holiday is going to be here just shy of two weeks! Memorial Day is a beloved American holiday where we honor the servicemen and women who bravely fought and served our great country, so we would be remiss to not first acknowledge the important reason and why behind the holiday.
When we think of Memorial Day, so many nostalgic feelings come running back that include fond memories of our own childhood including backyard bbq's, playing in the yard with our family and friends, getting a long hot sunny day swimming at the pool, and of course, a yummy homemade dessert. Now as adults and homeowners, our idea of a Memorial Day party may look a little more "grownup", but we still aim to include those classic elements of a backyard holiday party! Our walkout basement plans make entertaining for parties that much easier.
First and foremost… FOOD. No party is a party without delicious dishes. The best part about outdoor parties is the informality. Everyone knows the drill to not show up empty-handed, which takes a large amount of pressure off the host! Potlucks are a fun way to try a little bit of everything and provide a bountiful amount of food; plenty for seconds and thirds. And one guarantee is that the grill is definitely fired up and the resident Grill Master is flipping and seasoning his (or her) meat with pride. Nothing says America like walking out of your basement and enjoying good ole fashioned hot dogs and hamburgers straight off the grill.
Beverages
And coming in at a close second is the festive adult beverages! Of course, you can expect the blue and red Igloo coolers to be rolling in through those side gates jam-packed full of cold domestic beer, which will be perfectly suited for the fellas just fine. But historically speaking, the ladies like to enjoy a taste of something on the lighter side! After trying our hand at playing bartender a time or two, we have found two trusty favorite cocktails that are light, refreshing, and may or may not go down a bit too easy haha. They are easy to make and are sure to please even the pickiest of drinkers! Check out these two simple recipes: Bomb Pop and Gin Cucumber Lemonade
Games
Whether it be a big swimming pool or a luscious green backyard, a Memorial Day party is not complete without games! And not just games for the kiddos. We know that all it takes is a rip-roaring game of tag or hide and seek to keep the little ones running wild and free. But they can also join in the fun with a corn hole game aka "bags" as us midwesterners call them. Or a game of polish horseshoes. If you have a pool, I imagine there is definitely a diving contest or riveting game of HORSE taking place.
No matter what your backyard looks like, as long as you have family, friends, food, fun, and some refreshments; your Memorial Day holiday party is sure to be a blast for everyone!
Our "Coastal" plan is the one that feels like coming home after being away. It's the place where you can put your feet up, throw your load down, enjoy your favorite homemade dishes, cater to your outdoor soiree and it's perfect for walking out of your basement into your Memorial Day bash.