Searching for custom basements in Elkhorn? You've come to the right place!
When it comes to improving your basement, everyone has a different interpretation. Basement finishing, when done effectively, can increase a home's useable square footage by several hundred square feet. The possibilities for entertainment, office space, relaxation, guest accommodations, organization, and storage are practically limitless.
Blank Canvas
It might be daunting when confronted with a blank canvas like your unfinished basement, but that is why Hawthorne Finished Basements is here to help you during this journey! An experienced basement finishing/remodeling business can make the process more manageable by assisting you in defining your priorities and creating a vision for the area.
Start thinking of ideas for ways to improve your home in Elkhorn and raise its resale value by using the following tips:
1. Focusing on Functionality
Take some time to consider how you plan to use your additional space and what priority area is most significant to your lifestyle. Take into consideration your basement's specific qualities, such as the amount of natural light, is it a walk-out basement, and what is the positioning of existing mechanical components (furnace, water heater, and laundry). Home theaters are an excellent choice because oftentimes basements lack natural light in most homes. Basements are ideal for private guest rooms because they will be isolated from the rest of the home and create a sanctuary for your visitors. Basements are suitable for various uses such as children's play areas, a game center, music practice areas, and teen hangouts since the sound is confined more effectively. If you have ample space, you might want to explore partitioning it to suit numerous activities or demands.
2. Installing Proper Lighting
The proper usage of artificial and natural light can help to lessen the cave-like sensation that is frequent in basements with low ceilings. We aim to create basement spaces that are light and bright. No dungeon dwelling over here! Increase the amount of natural light accessible by installing windows or making existing ones bigger. A functional emergency window is necessary for fire safety reasons in basement bedrooms. However, if security is an issue in some sections, consider putting glass brick, which allows light to pass through without providing an entry point. Indirect lighting directed at the ceiling opens up the area by creating the appearance of a higher roof. Mirrors on the walls and ceilings might help to improve the brightness and reflect light. The appropriate combination of up-lighting, recessed lighting, and lamps positioned around the area allows for a range of moods and activities to be accommodated.
3. Flooring Options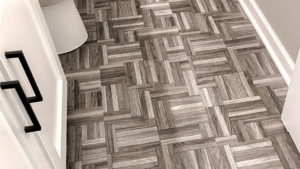 Basement flooring selections are not as restricted as you would imagine. In fact, except for hardwood, many varieties of flooring, such as carpet, vinyl, linoleum, cork, ceramic tile, and laminate, used throughout a home are also ideal for use in a basement. The most critical
factor is moisture. Water and water vapor can enter through the permeable concrete sub-floor, causing it to collapse and mold to develop. It is imperative to discuss the moisture components of your foundation and basement, ensuring you choose the most functional and fashionable flooring option for your new basement! Another option is to elevate the floor above the slab, creating an air gap that allows moisture to escape.
4. Developing an Organized Storage Space
Basements are ideal for storing seasonal and infrequently used things, but keeping your valuables organized and protected from dampness is essential. Several creative alternatives are both visually attractive and valuable. Decorative and functional, shelving and cabinets are available in various styles. Pegboards, wire racks, hooks, and magnetic organizers are helpful tools for keeping clutter under control and preventing tripping and fire dangers.
5. Having a Wine Cellar or a Bar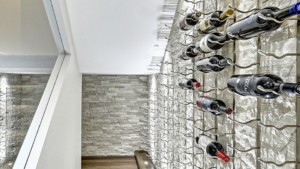 Basements are ideal for entertaining since they allow considerably more freedom of expression than the main living area. A wine cellar or a bar would be a natural fit in a space intended for socialization. Add a sink, a refrigerator, lounge chairs, and bar stools, and you have created an ideal adult gathering spot.
5. Including a Bathroom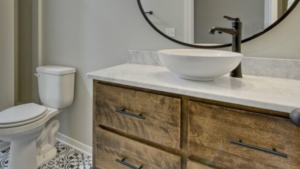 Because most basements have easy access to plumbing, building a bathroom is a very simple process. In addition, it is convenient and comfortable to have a bathroom where guests may stay and where friends or family members can meet.
6. Selecting Comfortable and Elegant Furniture and Decor.
Choosing fashionable and comfortable furniture is essential in establishing a warm and inviting environment. The primary use of the space will dictate the sort of furniture employed in a room. For example, sectionals are attractive because they tend to be more informal and are inviting. They allow for better arrangement freedom and give enough seats for discussion or movie watching. They can also be used as a bed if necessary. On the other hand, individual seats might be better for a game room.
7. Ensuring Appropriate Air Circulation 
No one prefers spending time in a basement that is chilly and uncomfortable. Add air vents and a return register if required to improve airflow. In addition, you can also consider installing a carbon monoxide detector since it will warn you of a leak in your furnace or
other gas-fueled appliances.
Get Started with Hawthorne
Do your research on custom basement contractors in Elkhorn, Nebraska. Take the time to read Google reviews, visit with current and previous clients, and be sure to interview the contractors.
As a 3rd generation builder, Lindsey Warren and the Hawthorne Basements team understand the importance of being accurate, on budget, and on time. Stop searching for custom basements Elkhorn and call Hawthorne Basements today.
If you're searching for an Elkhorn basement contractor you can trust, we encourage you to contact us as quickly as possible.
Phone: (402) 321-5260
Email: hello@hawthornebasements.com